Activities
A wide range of activities and excursions are easily arranged if you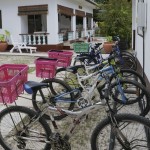 don't want to spend all of your time at the beach! Among the most popular choices are:
Bicycle Rentals – Delivered to the guesthouse and available to you for as long as you want
Island Activities – Cross-island treks, hikes to remote beaches such as Anse Marron or Anse Caiman or across Bellevue, L'Union Copra Plantation tours, and dinner reservations at different restaurants to enjoy delicious Kreol cuisine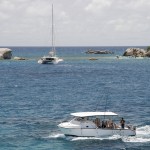 Sea Excursions – Circle La Digue tours, half-day and full-day snorkeling trips (full-day includes a BBQ!) to nearby islands, and both off-shore and deep-sea fishing trips
Anse Source d'Argent, perhaps Seychelles' most well-known and most photographed beach, is located within L'Union Plantation (entrance fee required), and is less than 10 minutes away by bicycle. Additional beaches are located 10 – 15 minutes to the north at Anse Severe and Anse Patates, and 15 minutes to the east at beautiful Grand Anse. For those seeking a bit of extra privacy, a short walk beyond Grand Anse takes you to Petite Anse and Anse Coco.