About Jennita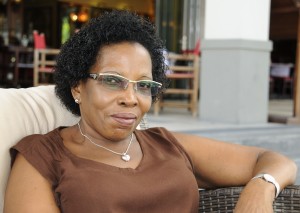 Jennita Socrate Bonaparte is a native Digueois with extensive hotel management experience throughout Seychelles and additional work experience in the Middle East and Japan. She is fluent in English, French, and her native Kreol, and her Italian is growing every day! She may even surprise you with her Arabic and Japanese skills!
Prior to opening Pension Hibiscus in 2009, Jennita worked nearly 20 years in manager and front office duties at Paradise Flycatcher Lodge and La Digue Island Lodge in La Digue and Vacoa Village in Mahe. As a result, Jennita brings an international level of service and quality – both infused with Kreol hospitality – for an experience that is uniquely satisfying even within La Digue.
Jennita's guest-oriented touches are seen in the exceptionally fresh and spotlessly clean rooms of Pension Hibiscus. Her personality is shown in the fully equipped kitchens provided in four of the five rooms. As an accomplished cook herself, Jennita knows that a "full" kitchen includes far more than mere dishes, one or two pots, and a few pieces of cutlery. At Pension Hibiscus, a sizable range of pots and pans (with covers) is provided for all cooking needs with essential extras such as a corkscrew, peeler, cutting knives, mixing spoons, and other necessary – but often neglected – cooking items. Each kitchen includes a full-size refrigerator and gas-stove burner rather than the more common mini-fridge and hot plate. She also provides a selection of commonly used seasonings and cooking oil so you don't need to buy new bottles upon arrival only to leave them when you depart. And paper towels, sponges, and dishwashing soap? Jennita has thought of these items also.
Personal touches also are found in Pension Hibiscus' two buildings: "Maison Alice" and "Maison Eliza," named for Jennita's lovely daughter and beloved mother, respectively. The hibiscus was a favorite flower of Jennita's mother, who lived on this property for more than 30 years, and the guesthouse thus honors her memory. Many of the beautiful hibiscus plants within the property have grown and thrived here for years and years, providing a colorful and meaningful landscape to brighten the grounds of Pension Hibiscus.
Jennita is proud of her Seychellois heritage and Kreol culture and provides glimpses of both in her cozy, immaculate guesthouse. She looks forward to sharing the charm, culture, and vivid beauty of La Digue with you!